The globally acclaimed business show, 'Shark Tank', which has aired in over 40 countries, is set to have a localised version in Bangladesh. Sony Pictures Entertainment and Bongo has inked a deal to introduce the popular reality show in the country with Robi on board as the 'Title Sponsor', supported by Startup Bangladesh as the 'Powered by' collaborator.
The show's premise involves budding entrepreneurs presenting their business ideas to a group of investors, dubbed the 'Sharks'. These investors, who usually are accomplished entrepreneurs themselves, decide on whether to invest based on the potential they see in the pitch. Entrepreneurs could be showcasing anything from a novel product prototype, an existing product or service, or even a firm seeking capital to upscale its operations. The ultimate goal for these entrepreneurs is to secure investment and transform their ventures into recognisable brands.
Bongo is soon to reveal a panel of local 'Sharks', representing diverse sectors and industries, with the announcement slated for a future date.
The directorial reins for 'Shark Tank Bangladesh' have been handed to Gazi Shubro. Additionally, Bongo is collaborating with SBK Tech Ventures, drawing upon their deep-rooted experience with investments and startups in the country, to enhance the show's production quality.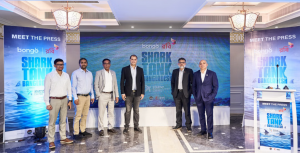 Ahad Bhai, Bongo's CEO shared, "We are a very entrepreneurial and resourceful country, and as a proud Bangladeshi I felt that this show is the perfect platform to combine entertainment with improving the lives of our people. We are very proud and excited to get this off the ground."
Sami Ahmed, Managing Director of Startup Bangladesh stated, "Shark Tank Bangladesh is poised to make waves in our entrepreneurial landscape, and we're thrilled to bring this global phenomenon to our country. This initiative aligns perfectly with Startup Bangladesh's mission of fostering innovation, supporting startups, and creating opportunities for our talented entrepreneurs to shine on a global stage. We believe that Shark Tank Bangladesh will not only inspire but also empower our local innovators to take their ideas to the next level, ultimately contributing to the growth and prosperity of our nation."
In a press handout, Shihab Ahmad, Chief Commercial Officer of Robi, echoed similar sentiments and emphasised Robi's pride in partnering with Bongo to launch 'Shark Tank' in Bangladesh and hopes it will inspire the nation's youth.
Aspiring participants can submit their applications through sharktank.bongobd.com or the myrobi app. Bongo will also be organising open auditions nationwide, with further details to be disclosed soon.
Source:https://www.thedailystar.net/tech-startup/news/shark-tank-comes-bangladesh-3441421